Interested in knowing more about comics, putting them to use in your classroom, and trying your hand at making them? I set up this site initially for the class on comics for educators that I taught at Teachers College and have since been growing to serve as a  database of comics-education resources. Explore the right sidebar for resources and feel free to drop me a line with suggestions. Thanks – Nick
Professor Steven Berg is offering a course on Unflattening and has set up a wiki here to share student work and collaborate with others at different universities. Please click here.
Comics as a Way of Thinking – in the Fall of 2015, I'm excited to be offering a new comics course at the University of Calgary – focusing on the communication aspects of comics with an underlying emphasis on learning about them through making. Below, I've shared the description and the poster, and I've posted the syllabus, readings, and more here.
ENGL 517.13: Theoretical and Cultural Studies: Comics as a Way of Thinking Description: This course will explore comics as a unique and robust communication form, with an emphasis on understanding comics by making them. We will take a multifaceted approach to analyzing the medium, from uncovering comics' historical roots and examining the various genres developed in the West and across the globe, to delving into the theoretical and formal elements, as well as considerations of comics in relation to other media such as film, poetry, and even architecture. Beyond narratives, we will look at the growing role comics are playing in the fields of journalism, education, and health/medicine. While making comics will be a significant component of the course, prior drawing experience is not required. Rather, we will expand upon what drawing means by creating spaces for students to play and explore the multiplicity of possibilities that emerge when we work in the bilingual fashion that comics facilitate. The course will serve as a springboard for students to develop ways to incorporate visual practices gleaned from comics into their own creative and critical work.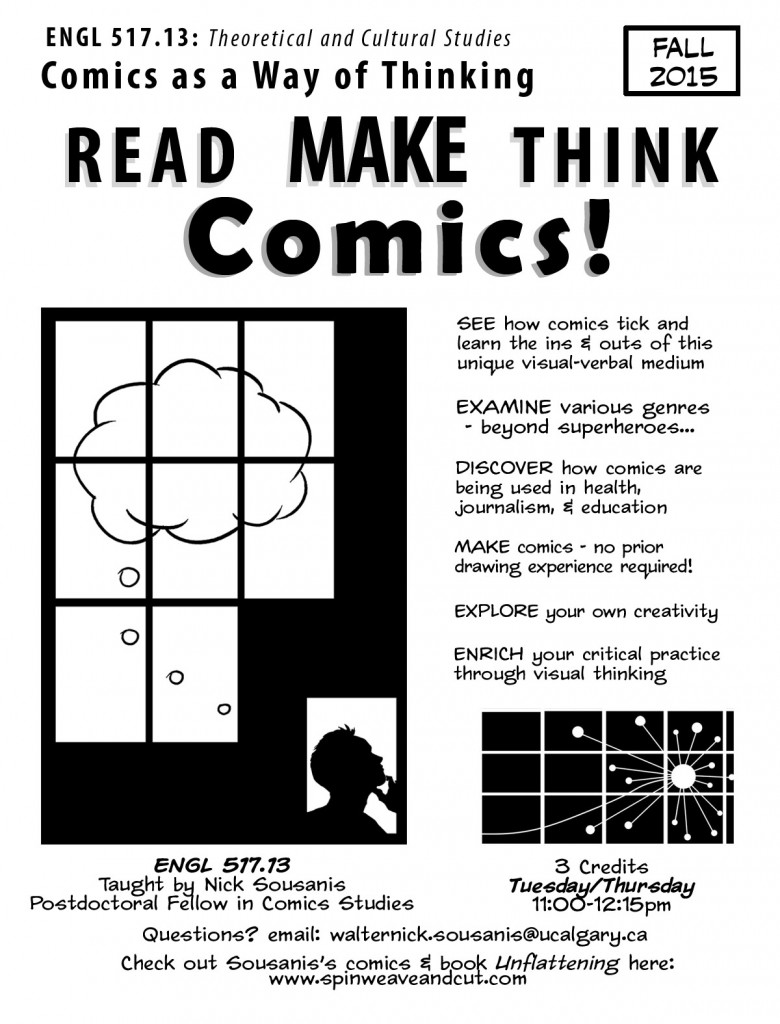 Sousanis Comics 5151 Syllabus Spring 2014 at Teachers College (PDF) Poster for past course at Teachers College