Comics Studies @ SFSU has now hosted two Comics in the Classroom events. First online only in 2021 (see below for details) and in 2023 – online & in-person all to support SFUSD Educators in learning about comics and using them in their classroom.
Comics Studies @ SFSU presents: Comics Studies PD for SFUSD Educators
2-part Professional Development sessions on Comics Studies for SFUSD, Wednesday Feb 8th & Wednesday Feb 15th, 2023: 
PART ONE: On February 8, 2023 – we hosted a Banned Comics Panel on Zoom, feauring comics authors Joel Christian Gill, Maia Kobabe, MariNaomi, & NYC Dept of Education's Joe Schmidt. The panel was recorded and can be seen in its entirety here:
PART TWO: On February 15, 2023 Nick Sousanis (me!) gave a comics-making workshop for teachers at SFSU. All the activities we did together are documented extensively on the site here. See below for details from the 2021 event and stay tuned for future comics & teaching events!

This event was made possible by a grant from the SFSU College of Liberal and Creative Arts
Details, resources, and sketchnotes from our 2021 Comics in the Classroom event: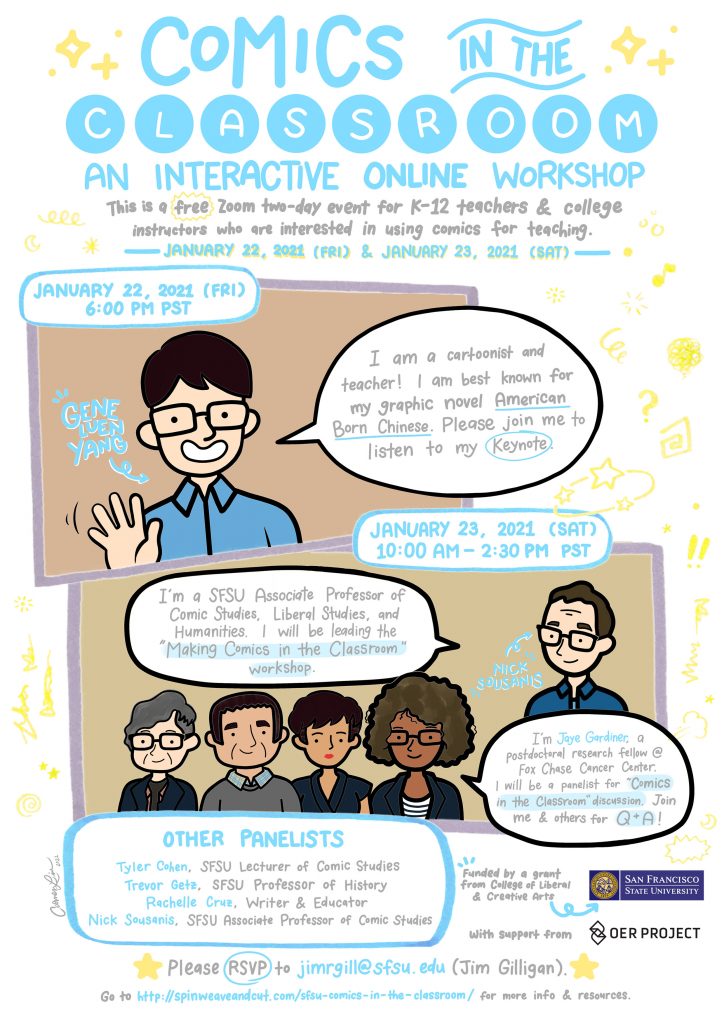 The Comics Studies program at SFSU invites Bay Area educators to join us for a round of events to learn how to incorporate comics into your classrooms! This two-day event includes a keynote from award-winning cartoonist Gene Yang, a hands-on workshop to get a feel for making comics and activities to try with students, and a panel with educators putting comics into practice in their different classrooms! Join us Friday January 22 and Saturday January 23 for this free online event! See the detailed schedule here.
Registration: FREE. RSVP to Jim Gilligan jimrgill@sfsu.edu for Zoom passcode access. Tweeting about the event, use the hashtag #comicsclassroom
Learn more about each of our presenters below:
RESOURCES from our Presenters for you!
Carmen Liu – sketchnotes from the event

This event is made possible by a grant from the SFSU College of Liberal and Creative Arts

With support from the OER Project