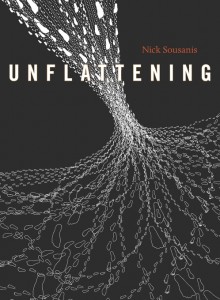 Unflattening, originally my comics dissertation, was published by Harvard University Press in 2015. Click here for an excerpt.
For forthcoming public talks please see here.
Unflattening is also now available in French (as Le déploiement), Korean, Portuguese (as Desaplanar in Brazil), Serbian, Polish, Italian, and Chinese. Curious about using Unflattening in the classroom? See how it's being taught here.
AWARDS for Unflattening
REVIEWS & NEWS (For a comprehensive list of all media, please see the press section)
Publishers Weekly Starred Review! "Sousanis has made a profound contribution to the field of comics studies and to semiotics, epistemology, and the burgeoning study of visible thinking. Essential reading for anyone seeking to create, critique, or consider the visual narrative form."
New Statesman Review Neel Mukherjee. "[Unflattening] is a book that is dense with the syntheses of ideas, nimble, far-reaching and impossible to summarise. It liberates itself from the standard layout of panels within frames, teaching the eye and mind to read the unfailingly intelligent black-and-white artwork in unconventional and new ways. Unflattening deserves a place as a compulsory textbook in schools."
Forbes includes Unflattening on its list of 10 Best Graphic Novels of 2015, calling it "Beautifully drawn and brilliantly conceived, Unflattening is an instant classic."
Print Mag names Unflattening to it list of 25 Best Design Books of 2015! Describing it as, "the end result is, frankly, genius"
The Kenyon Review includes Unflattening on its 2015 list of Recommended Reads, calling it: "a modern day mashup of philosophy and critical theory, there is poetry at work in this contemplative comic book that offers as fresh a take on the genre as Spiegelman's Maus
 did when it first hit the bookracks in 1991."
The American Library Association's "Choice: Reviews" calls Unflattening "potentially revolutionary." "For more than two decades, Scott McCloud's Understanding Comics: The Invisible Art (1993) has been the cornerstone of nearly every syllabus for courses on comic books and graphic novels. Though nothing can usurp it, Sousanis's Unflattening now provides the answer to the question, "What next?" … "This is a book that wants to teach, a book that will be talked about and belongs in any forward-looking library."
The Paris Review interview on thinking through images.
Print Mag interview with renowned design critic Steven Heller.
Massive interview with media scholar Henry Jenkins, who describes Unflattening as "not simply good comics, whatever that might mean, but transformative comics, comics that stretched the medium in all different directions, comics which made us think about comics were in new ways." See all four parts here: Part 1, Part 2, Part 3, Part 4
Renowned UK comics critic, scholar, curator Paul Gravett names Unflattening to hislist of Top Ten Comics of 2015: "Reading this PhD entirely in comics form will alter your perceptions, of comics, of art, of how to see and process your world and your ideas. Sousanis is relentlessly innovative in his solutions to picturing his concepts and in the process provides irrefutable proof of the efficacy of the medium to explain engagingly and memorably…"
New York Times Book Review by Doug Wolk "Comics": "Sousanis's Unflattening is a genuine oddity, a philosophical treatise in comics form. 'Flatness,' for Sousanis's purposes, is not the quality of abstraction that Clement Greenberg lauded in modern art, but the lamentable condition of the inhabitants of Edwin A. Abbott's 'Flatland': the inability to understand that there might be more than one can immediately perceive…"
LA Review of Books review (in comics form!) by Stephen Asma: "Sousanis has achieved something powerful—a book that goes beyond just saying a thesis to actually showing one."
ICv2 (comics/culture site) review:The Unflattening Moment by Rob Salkowitz,: "When history looks back on 2015 as a breakthrough year for comics in higher education, the publication of Unflattening by Nick Sousanis on Harvard University Press will surely stand out as a turning point."
After Image, review, writer Stephanie Amon calls Unflattening, "a delightfully profuse work on the nature of imagination itself."
Booklet Science Podcast, brilliant, insightful review, cohost Amanda Gefter describes Unflattening as using "science as a metaphor for deeper understanding" (last 15 minutes).
Quill & Quire (Canada), smart and insightful review by Ian Daffern, who calls Unflattening "terrifically ambitious, and sincere in its belief that comics can provide a parallax view to not just open our minds to innovation, but free us from the linear restrictions of what we call reality."
The Comics Grid, thoughtful review conversation by Peter Wilkins & Damon Herd.
Der Tagesspiegel, lengthy review (in German).
Unflattening has made several comics of the year (thus far) lists! Alongside comics from established authors and publishers from DC, Marvel, Image, First Second, and more. See the rundown including Paste Magazine 20 Best Comics of 2015 (so far), Panels Favorite Comics of 2015 (so far), and The Young Folks 2015 Midyear Review.
Comics for Grownups Podcast, brilliant and rich discussion of Unflattening by Alexander Rothman & Joshua Malbin. Also made Comics for Grownups list of top 7 books of the year.
Newsarama interview by Forrest Helvie on Unflattening as changing the game within comics and academia.
The Brooklyn Rail, review by Matt Finch: "On the Shores of Word and Image"
The Comics Grid, review, "One Giant Leap" by Matt Finch: "Unflattening demonstrates the viability of a comic book as doctoral scholarship in its own right, rather than a separate work requiring some accompanying critical paratext. … The great success of Unflattening is that the reader retires from this comics-essay feeling that to simply write about the form in prose is inadequate, and new discursive strategies are required to explore these open spaces. … It will be thrilling to see what artist-scholars do in the comics space now that Unflattening has broached the gates of the academy from within."
BoingBoing's Cory Doctorow  features Unflattening!
The Boston Globe book Discovery review by Jan Gardner: "Sousanis's drawings are first rate and his writing style economical. To demonstrate how introducing new vantage points expands our thinking, he explores a range of philosophical concepts, calling on Plato, Copernicus, and even the 'fifth dimension' explored in the TV series The Twilight Zone."
Inside Higher Ed interview: Seeing in New Dimensions.
Too Busy Thinking about Comics interview with comics critic Colin Smith Part 1 & Part 2.
New Books Network Podcast interview, with Carla Nappi who calls Unflattening: "a must-read for anyone interested in thinking or teaching about the relationships between text, image, visuality, and knowledge."
UOL (Brazilian newspaper) interview "Teacher publishes doctoral dissertation in the form of comics in the US"
Creativity in Play Blogcast interview: live conversation with Steve Dahlberg & Mary Alice Long on creative process 

Publishers Weekly Podcast Interview More to Come.
Bookshots/LitReactor review by Brian McGackin.
The Lifted Brow (Australia), Unflattening got its first choose-your-own-adventure review! Creator Matt Finch decided since Unflattening was challenging the forms scholarship could take, shouldn't a review as well? Play here.
Comics Spectrum review by Joseph Manuel Nieves. I was particularly moved by this passage: "And the more I think about, the more in awe I am of what Sousanis has accomplished here. I've never read a scholarly work that elicited this kind of emotional response from me. To be clear, this is a truly intellectual volume, one which earned its author a PhD in education, but it's also a very stirring work of art. How many PhDs can say that about their dissertations?" 
Editorial Reviews
"Nick Sousanis's Unflattening is a complex, beautiful, delirious meditation on just about everything under the sun; a unique and bracing read."—Scott McCloud, author of Understanding Comics and Making Comics
"An important book, Unflattening is consistently innovative, using abstraction alongside realism, using framing and the (dis)organization of the page to represent different modes of thought. The words and images speak for themselves and succeed on their own terms. I couldn't stop reading it."—Henry Jenkins, author of Spreadable Media: Creating Value and Meaning in a Networked Society 
From the jacket
The primacy of words over images has deep roots in Western culture. But what if the two are inextricably linked, equal partners in meaning-making? Written and drawn entirely as comics, Unflattening is an experiment in visual thinking. Nick Sousanis defies conventional forms of scholarly discourse to offer readers both a stunning work of graphic art and a serious inquiry into the ways humans construct knowledge.
Unflattening is an insurrection against the fixed viewpoint. Weaving together diverse ways of seeing drawn from science, philosophy, art, literature, and mythology, it uses the collage-like capacity of comics to show that perception is always an active process of incorporating and reevaluating different vantage points. While its vibrant, constantly morphing images occasionally serve as illustrations of text, they more often connect in nonlinear fashion to other visual references throughout the book. They become allusions, allegories, and motifs, pitting realism against abstraction and making us aware that more meets the eye than is presented on the page.
In its graphic innovations and restless shape-shifting, Unflattening is meant to counteract the type of narrow, rigid thinking that Sousanis calls "flatness." Just as the two-dimensional inhabitants of Edwin A. Abbott's novella Flatland could not fathom the concept of "upwards," Sousanis says, we are often unable to see past the boundaries of our current frame of mind. Fusing words and images to produce new forms of knowledge, Unflattening teaches us how to access modes of understanding beyond what we normally apprehend. – Unflattening is available from Harvard University Press.