Unflattening was featured in the New York Times Book Review! Writer Douglas Wolk said,
"Nick Sousanis's Unflattening is a genuine oddity, a philosophical treatise in comics form. 'Flatness,' for Sousanis's purposes, is not the quality of abstraction that Clement Greenberg lauded in modern art, but the lamentable condition of the inhabitants of Edwin A. Abbott's 'Flatland': the inability to understand that there might be more than one can immediately perceive. The solution he proposes is admitting visual elements, and especially drawings, into the intellectual domain of language. (Psst—he's talking about comics!)"
See the full writeup here.
The Boston Globe also covered Unflattening for their book Discovery feature. Jan Gardner wrote:
"Sousanis's drawings are first rate and his writing style economical. To demonstrate how introducing new vantage points expands our thinking, he explores a range of philosophical concepts, calling on Plato, Copernicus, and even the 'fifth dimension' explored in the TV series The Twilight Zone."
Give the full feature a look here. The University of Calgary's student newspaper the Gauntlet ran an interview with me by writer Rachel Woodward. In addition to discussing the learning potential of working visually, the article also highlights my forthcoming fall class – Comics as a Way of Thinking – which I'm really excited to see unfold. I've posted some info on the course here, and I'll share more as it gets closer to September. See more reviews and interviews on my site here or at Harvard UP's site.
I also made a new comic for the Boston Globe's Ideas section! The piece Upwards connects some elements from Unflattening in a very different synthesis. (You can check out related pages about Flatland, Copernicus, parallax, and saccadic motion at the respective links.) It was an exciting challenge to work in the single page format, and I'm really pleased with how it all came together. Thanks to the Globe for the invitation to pitch in, and Globe editors/design team Katie Kingsbury, Heather Hopp-Bruce, and Nicole Hernandez for all the support to make it happen, and my editor at Harvard, Sharmila Sen for helping keep my words tight as usual! You can see it on the Globe's site here and below. I've also included my original pitch sketch, and some of the early sketches that led to it.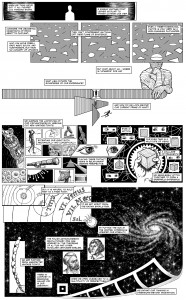 I've been sharing resources to people using Unflattening in their classes, and I have a new one to add –
Flatlessness
by a group out of Ball State. They will be posting their array of responses on the
flatlessness tumblr here
, and welcome contributions collaborations. I've previously shared Professor Steven Berg's wiki for his class (defunct http://scholarlyvoices.org/unflattening/index.html), which you can learn more about here. And I'm excited about the multimodal
analyses Terry Elliott
and others have been making of my pages. Here's
one to page 45
, the James Joyce
Ulysses, faucet page
.
Finally, thanks to Book Beat and all the Detroit-area folks who came out to my book talk and signing event there! I was really moved by all the support of a home town crowd – it was an over-capacity gathering and we sold out! – and doubly happy to have my daughter in attendance. (thanks to Patty McCormick for the pictures – I took the crowd shot.) Grateful for a spirited evening I'll hang onto for a long time to come. Also, today (Friday, June 5) at 2pm, I'll be doing an impromptu book talk at
Bramble Bookstore in Viroqua
, Wisconsin. If you're nearby or know anyone who is – come on out! – Nick