The last two weeks saw a full schedule of conferences with a public talk in between. I've had terrific experiences all around, and each gathering has provided an excellent opportunity to share my work, and explore with audiences the ways in which we think and make meaning beyond text for learning and scholarly work.
First up, Imagining America's conference here in NYC. This is a fantastic organization, bringing together artists and scholars engaged in public life. I co-organized a session on Expanding Forms of Inquiry with new colleagues prof. Anastasia Salter of U of Baltimore, and Paul Tritter and Tom Neville graduates of Harvard's school of education, where they co-organized (with Zac Chase) the Hack the Dissertation project. We discussed our own works in expanding forms of inquiry in comics, gaming, and, well, hacking (in a non-computer sense), and invited the audience to share projects they've been involved in, roadblocks, and ideas for how we can see more of this work going forward. It was an engaged conversation and sparked thoughts to grow it further. Anastasia wrote on the gathering for her ProfHacker column in the Chronicle and we invite others to join the conversation there or on our site.
Next up, I went to Oakland University, back home in Michigan, for a conversation on my work and comics as part of their
yearlong series on creative and critical practices
. We anticipated maybe 30 attendees and were shocked to have about 150 students and faculty! Given that this was the first time i was trying to integrate making exercises alongside the lecture, the first few moments were a little nerve-wracking, but it ended up being a blast! After talking education and comics theory, it was a real treat to then see each person engage in the drawing and start to rethink the ways in which they think – and share with the whole group. Thanks to Ben Bennett-Carpenter of OU for making this happen.
The final leg of this tour was attending the
Association for Integrative (soon to be Interdisciplinary) Studies
conference also in Rochester, Michigan. This is my fourth AIS convening (which always comes at the same time as NYComicCon, drat!) and it's always a pleasure to be around folks who come at things from such a diversity of perspectives and are engaged specifically in the work of integrating multiple perspectives. Also did a small drawing exercise during my talk, and it's exciting to push people out of their comfort zone and then have what i'm talking about become much more meaningful through the experience. Thanks to IA member Tanya Augsburg for the action shot (with the
page about Eratosthenes
)!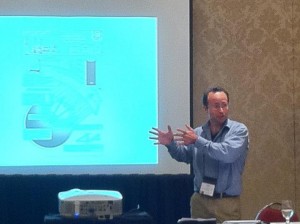 All of this has meant a little drawing slowdown, but I've been moving along quickly since. Sharing one page that sets up the interdisciplinary specific section of Chapter Two. I have several more finished, but likely i'll share them all when the sequence is completed. Thanks – Nick