So the dissertation is defended, finished, and I graduated. But as I prepare to move on to next steps, I thought it was important to pause here and publicly acknowledge all those whose support has helped make this possible. I've not only had a good team backing me on the home front, but also, as I said in the opening of my talk at UCLA a couple weeks back (my first post-graduation(!)), I've been extremely fortunate to be able to engage in an ongoing public conversation around the work – this includes  people I met at talks around the country and all whom I've interacted with right here on the web and social media spaces. It's all helped shape the work as I went along.
Of the many things that this virtual space made possible was
my "put your foot in my dissertation project"
– and the support of all the participants from around the globe who willingly (and eagerly) shared their feet with me! So before I list the dissertation acknowledgements, I want to get to announcing the winners of my foot project contest. In addition to getting a credit in the dissertation (as well as its future published form…), participants were entered into a random drawing to win a signed 11by17 inch print of one page from the dissertation, with three runners-up receiving a signed-mini excerpt. I ended up with just shy of 100 feet from the individuals, families, and groups listed below. I'm both grateful to have gotten all of these and also grateful to not have gotten more! For not only did I end up retracing all of them for clarity of line quality, I then turned each of those tracings into brushes, which I used to then draw the distinct footpaths that make up these trio of pages. (While this sequence was not displayed as a triptych in the dissertation, I'm hopeful there will be a way to display it properly in its next form.) Every SINGLE one of the feet submitted appear on these pages – though I understand if you can't identify your own easily! There is also a different sequence with only men's 10.5s overlaid on top of my foot outline, which perhaps I'll share at another point. I was really pleased with the tremendous variety in foot shapes – and I think it helped make my visual argument – if our feet are this distinct – then how different must be the ways in which we learn… (Note, this is a screenshot of three separate, still unlettered pages in low-res.)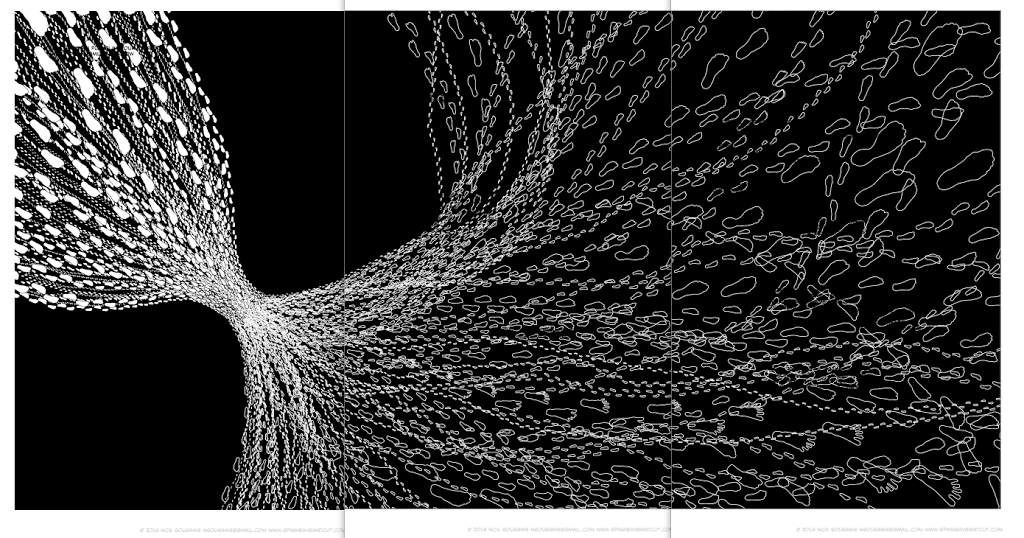 Contest winners, randomly drawn:
Runners-up: Cathy Peet, Sue Uhlig, Steph
Grand prize winner: A. David Lewis
Since I knew all of the opening round of winners to some degree or another, I decided to spread rewards around further and drew again, and then one final time for good measure. And so:
2nd Runners-up: Cathy Rosamond, Devin Berg, Tracy Dawson & Parkes High School, NSW Australia
2nd Grand Prize Winner: Edgar Castro
3rd Runners-up: Ronelle Kallman, Donald Davenport, @cogdog
3rd Grand Prize Winner: Sean Kleefeld
Special prize goes to Hattie Kennedy and Damon Herd for sending their feet in from the UK within 20 minutes of my posting it! Winners will be notified by email and I will mail rewards to provided addresses.
All have my gratitude for their contribution and for all the support of this project. The roll call:
Hattie Kennedy, Damon Herd, Carly Piirainen Davis and family, Ruud Cox, Maudi Cox, Alyssa Niccolini, Linda Allen, Marta Cabral & anonymous, Sarah Chauncey, Paddy Johnston, Leigh Graves Wolf, A. David Lewis, J. Nathan Mattias, Devin Berg, Cathy Peet, Russell Willerton, Chris Moffett, Paul Tritter, Charles Shryock IV, Cathy Rosamond & Family, Adam Bush, Marcus Weaver-Hightower and family, Kathleen Moore, +M, Jennifer, Louis Bury, Rebecca Kuhlmann Taylor, Gray Evelyn Taylor, Remi Holden, Marcelle, Marcos, Tim, Steph, Anna Smith, Sharon Farb, Leslie M, Todd Grappone, Eliza Lamb, Donald Davenport, Vanessa Chang, Sean Kleefeld, Lauren Albert, Ivory Kris, Maggie Whitten, Kurt Hozak, @cogdog, Edgar Castro, Ronelle Kallman, Sue Uhlig, Pedro Cabral, Adele Holoch & boys, Tracy Dawson & Parkes High School, NSW Australia, Elizabeth Branch Dyson,
Samantha Cooper, Jesse Carbonaro, Tracy Scholz,
Michael Hoffman, and Dean Sousanis.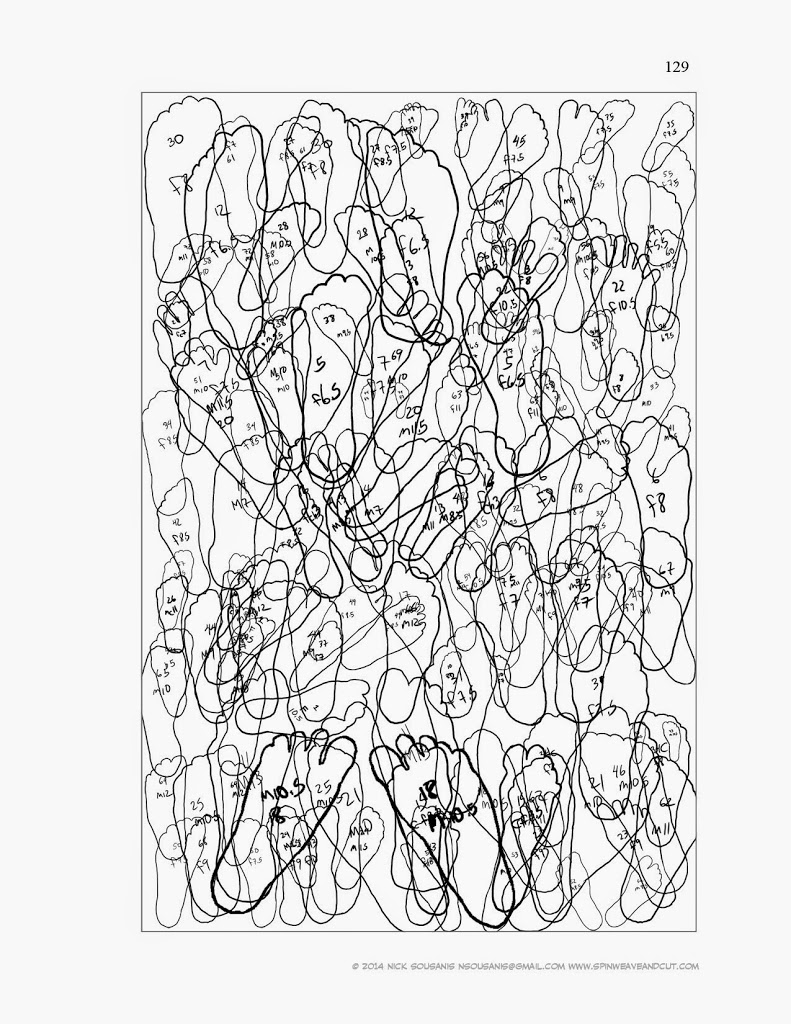 A first test of all the feet re-traced on a single page
Below, you'll find acknowledgments from my dissertation, more or less as they appear. (I'm thinking to do a more visual version of this for its post-dissertation form.) Since it isn't readily available anywhere else just yet, I thought it was important to share my words of gratitude in full here. I can say that the next steps for this work have been determined and that it will be available in published form not too far off, of which I will speak of much more at a later time. As for my own next steps? Those remain to be determined…
Thanks to all mentioned below and thanks to all who've been supporting this project all along or just visiting for the first time… Onward! – Nick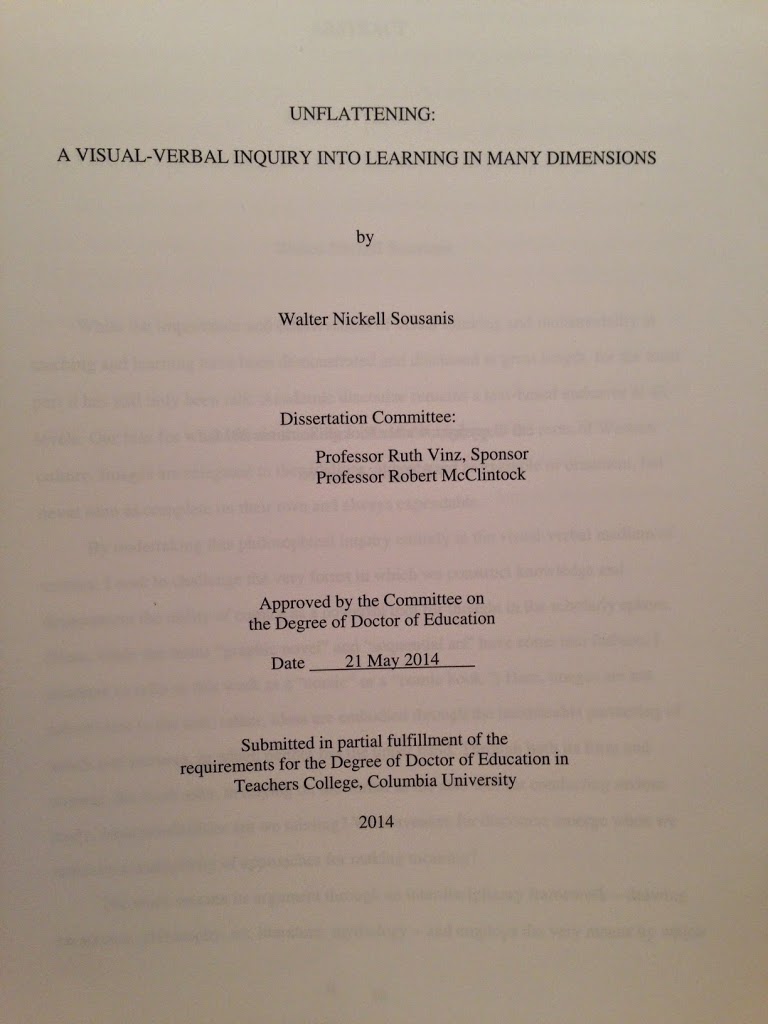 ACKNOWLEDGMENTS
We don't get where we're going alone. The journey that has been making this work has emerged from the conversations, advice, inspiration, and support of those mentioned here, to whom I express my deep gratitude.
I am moved by the openness from the outset with which my advisor Professor Ruth Vinz embraced the decidedly unfamiliar territory that is my work, and for her wise understanding that meaning making takes many forms. As I meet others whose efforts to forge their own paths were stopped short by those who possessed a narrow concept of what research can look like, I'm particularly grateful for Ruth's trust and encouragement for me to follow my curiosity in the directions I needed to go. My advisor Professor Robbie McClintock's courses with his colleague Frank Moretti were a wellspring of edification, and the thoughtfulness and humanity that both modeled in their teaching have left a lasting impact on my thinking. I have a sense that Robbie understood where I was headed before I did, and with a few thoughtful words that stayed with me throughout the entire process, he helped me stay on track and deepen my exploration between our ways of seeing and ways of learning.
I had the good fortune to happen upon Professor Maxine Greene's 90th birthday talk as my first outing at Teachers College. That unexpected occurrence was a jolt of inspiration, which led me to her class, and has since spiraled into an ongoing conversation that I cherish. Maxine's commentary as she read over my pages has been a constant source of delight, and I'm extremely fortunate to have that opportunity to
engage with her spinning,whirling mind
. (Sadly, Maxine passed away two weeks ago, just a few weeks after the defense. I
wrote about her here
.)
Professor Mary Hafeli came on board near the end of this journey as final reader but immediately brought with her tremendous insight, support, and encouragement for which I am grateful and eager for conversations to come. (Please note, while university formatting requirements allow only a candidate's first two committee members to appear on the title page, both professors Greene and Hafeli also served on my committee, and I want to make special note of that here.) Even at a distance, Professor Graeme Sullivan has been a steady and extremely generous rock of support and counsel. His work and dedication are ever an inspiration to keep pushing forward. And to Mary Sullivan, for all her kindness, warmth, and encouragement.
There are many faculty members at Teachers College whose contributions have helped shape and buoy this work throughout. This includes courses and conversations with Judy Burton and Barbara Tversky, conversations and boundless encouragement from Yolanda Sealey-Ruiz, Lalitha Vasudevan, Olga Hubbard, Sheridan Blau, and the aforementioned Frank Moretti, whose absence is a tremendous loss to the intellectual and human community of Teachers College.
I'm grateful for the support and advice from Vice Provost William Baldwin and Provost Thomas James, and additionally grateful to them and the award committee for the support and recognition of the Provost's Doctoral Dissertation Grant. A big thank you to Rocky Schwarz along with his team at TC's Business Services Center, including Aklilu, Michael, Isaac, and Chan, for their generous support and dealing with my difficult and usually nearly last-minute printing requests. Margaret Scanlon and Carey Reed in the English Ed office were a bit of sunshine and a big help sorting through things throughout my time at Teachers College. To Russell Gulizia for ensuring this all came together properly.
I'm indebted to the conversations over the years between my friend and collaborator Professor Fred Goodman, who is always prompting me to turn things over and look from other sides. My
conversations with CharlesMcGee
serve as a constant source of inspiration and are ever present in my thinking and my voice.
I've benefited from terrific, inspiring, and supportive colleagues at Teachers College, including Andrea Kantrowitz, Marta Cabral, Tara Thompson, Daiyu Suzuki, and Razia Sadik. I can't say enough about Suzanne Choo, the best partner I could have in navigating graduate school – our collaborations and spirited bickering made this adventure so much the better. Ryan Goble got me into this in the first place, and our conversations and his humor have helped sustain me over the years. I am grateful to list Timothy K. Eatman, Adam Bush, Donald Blumenfeld-Jones, Bill Ayers, Jim Hall, Anastasia Salter, and Adam Bessie as colleagues and collaborators. I've been fortunate to draw together wonderful colleagues in comics and education from across the country, including Christy Blanch, Yen Yen Woo, Stergios Botzakis, Jarod Roselló, Marcus Weaver-Hightower, and Andrew Wales. Friends old and new whose counsel and insight have helped broaden my thinking: Susanne Beechey, Andy Malone, Matt Sikora, Sambuddha Saha, Andrew Butler, Adam McGovern, Remi Holden, Alexander Rothman, Andrea Tsurumi, Paul Hirsch, Lou Bury, Daniel Powell, Mark D. White, and Meg Lemke. A special shout out to Leo Tarantino and Stephanie Huffaker, who read chapters as I finished them and kindly shared their insight.
The support of REDACTED and the team at REDACTED Press has been incredible, and I'm eager for our next steps together.
So much of this work has grown from conversations I've had in public forums. Thanks for sharing the work to
Sydni Dunn
and
NickDeSantis
respectively, at
The Chronicle for Higher Education
, Katya Korableva for
Russia's Theory&Practice
, John O'Reilly of the
UK's Varoom Magazine
,
Maureen Bakis
,
Nate Matias
,
Hannah Means-Shannon
,
Patrick Cox
,
Brooke Sheridan,Chris Malmberg
, Anthony Salcito of
Microsoft's Daily Edventures
,
Hybrid Pedagogy & Jesse Stommel
, 
Brett Terpstra
,
Nicolas Labarre
,
Morna McDermott
,
Paul Thomas
,
Anastasia Salter
,
Matt Finch
, and
Siddhartha Mitter
. A big thanks to Professor Jill A. Perry of the Carnegie Project on the Education Doctorate who has been a rock of support and counsel all along.
I am grateful for my involvement with the Association for Interdisciplinary Studies and its similarly difficult-to-define membership, including Bill Newell, Julie Klein, Roz Schindler, Rick Szostak, Angus McMurtry, Tanya Augsburg, Jennifer Dellner, and James Welch, III. A similar shout out goes to the folks of Imagining America and their PAGE graduate fellows for welcoming me and their vision for and dedication to intersecting arts and scholarship, academia and the larger public. Thanks to the support of the Stanford Graphic Narrative Project/Ideograph Journal and my new friends and colleagues there: Angela Becerra Vidergar, Vanessa Chang, and Haerin Shin.
To my students at Teachers College, Parsons, back at Wayne State University, and on the tennis courts, from whom I have learned so much from about learning and teaching, and whose interactions have inspired me to constantly expand my thinking.
In the comics world, I've benefited greatly from the support and camaraderie from Scott McCloud, David Small, Ben Katchor, Lynda Barry, Matt Madden, R. Sikoryak, Karen Green, Kent Worcester, Gene Kannenberg, Jr., and Charles Hatfield.
For the inspiration and all that their work has made possible for comics: Alan Moore, Scott McCloud, Art Spiegelman, Françoise Mouly, Will Eisner, David Mazzucchelli, Frank Miller, Marjane Satrapi, Lynda Barry, and Chris Ware.
A special thank you to my earliest comics collaborators: Joe Jokinen, Matt Kaspari, Kyle Roberts, and Tim Newell.
Thanks to Russell Willerton and Everett Maroon, who responded to my call for help in sentence diagramming!
To my brother John, his wife Autumn, and their growing family – a kaleidoscope of different eyes to learn from. A conversation with Aurora Sousanis about testing day at school followed by watching her learn a new skill on the monkey bars has served as an essential lesson to me about what's important in learning. To my brother Dan, with great appreciation for opening my eyes to distinct ways of making in the world.
To my parents Dean and Anne Sousanis, educators in the best sense of the word, for their inspiration and endless support for my explorations, and for instilling in me through their example the importance of keeping one's eyes open.
And of course, to my wife Leah. Having a partner who understands you and can articulate your work better than you can is monumental. From her tireless support and belief in me to her passionate editorial input (!), her presence enriches everything I do. – W. N. S.
DEDICATION
For Rosalie Anne Goodbear Sousanis – and all the possibilities that lay ahead for her…