Next week, I'll be talking comics and my dissertation at Oakland University. It's open to the public, so if you're in the area… Thanks to Ben Bennett-Carpenter for making this possible. – Nick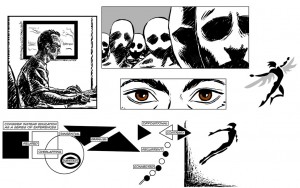 Nick Sousanis:
Visual-Verbal Artist-Academic
presents his work in comic books
on "Creative & Critical Minds"
Wednesday, October 10, 2012, Noon
Oakland Room in the OC (student center) @ Oakland University
Nick is a Detroiter now living in New York, co-founder of the arts and cultural web-mag

www.thedetroiter.com

, founding director for the University of Michigan's Work•Detroit gallery
(on Woodward Ave), and biographer of legendary Detroit artist Charles McGee.
Nick is currently writing and drawing his doctoral dissertation at Teachers College, Columbia University, entirely in comic book form — the first of its kind. Anyone interested in the interaction of verbal and visual modes of communication — or something akin to Scott McCloud's work in the now contemporary classic Understanding Comics— will find this presentation of interest.
See Nick's comics at www.spinweaveandcut.com.
Sponsored by the CAS Theme committee and the Department of Writing and Rhetoric at Oakland University.  Contact: Ben Bennett-Carpenter (bennettc@oakland.edu | 248 854 8340)