Some recent reflections on doing my dissertation in comics form have just been published as part of a
Media Commons collection
on doing alternative scholarship in the academy. Fellow contributors include Cathy Davidson, Jade Davis, Gregory Donovan, and Amanda Licastro. This is a continuation of a conversation we had together at CUNY in NYC last fall (which I posted
info about here
and
video documentation from it here
). I think this is a pressing and valuable conversation in academia, and I'm pleased to able to contribute to the ongoing dialogue. See
all the essays here
.  I was also included in a related Media Commons series titled
"What's the Point? The Dissertation as a Process and not a Product,"
put together by colleagues from Imagining America – Alexandrina Agloro, Elyse Gordon, and Johanna Taylor. In addition to a wonderful conversation from scholars who are pushing what scholarship can be and who it is for, they've also created a "Choose Your Own Adventure"/PhD guide. It's a diverse collection of voices and perspectives and worth exploring for those looking to move away from scholarship as usual. See
it all here
. These essays join a previous series titled
"Beyond the Dissertation as Protomonograph,
" for which I'd previously shared
a lengthy reflection
delving into the steps along the way of doing my dissertation. My
piece is here
and you can see
the entire set of essays here
.
This past week brought a few reviews for
Unflattening
 – the book version – from various sources. A quick round up: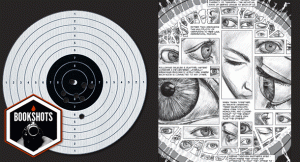 In LA-based writer's magazine LitReactor's "Bookshots" review, Brian McGackin wrote an incredibly thoughtful and moving review of Unflattening that was also presented in a rather unique and I think quite fitting format. I greatly enjoyed how he took readers through his own thought process in encountering and understanding the work, starting from little prior knowledge. As a former arts reviewer, I think i'm particularly appreciative of reviewers who take the time to grasp the work as deeply as he did. See it in full here.
On a comics-specific front, Unflattening was taken up by the
2 Guys with PhDs on the recent episode of their Comics Alternative Podcast
. You can listen to their podcast
here
. Also, on the comics front, Nicholas Theisen, comics scholar at University of Iowa, published an incredibly
in-depth reading of Unflattening on his blog
. He came quite specifically from the perspective of comics studies, and took it in directions I hadn't anticipated, which gave me some good things to think about and I appreciate the lengths he went to explore it. Check
it out here
. My friend and colleague Stergios Botzakis, professor at the University of Tennessee, gave Unflattening some kind words on his
Graphic Novel Resources blog
 (so we're not really calling this a review). Stergios does important work researching and implementing comics in classrooms setting – so I highly recommend going
to his site
to look at all the reviews of comics (mostly for young readers) – an
invaluable resource
! Finally, celebrated Stanford professor of English Andrea Lunsford, who had been in town in Calgary to give an inspiring talk on the future of writing and literacy in a digital age, shared
a few words about Unflattening on her blog
. I'd met professor Lunsford at a
talk I did at Stanford a while back
and appreciated the chance to reconnect, and was greatly moved by her thoughts on education and young learners. She does extremely important work. If you're not familiar, I definitely recommend getting
to know her work
– it's extremely important for thinking about how we approach writing (and I think quite in line with the discussion of alternative scholarship above).
Last week, I was in Chicago for the annual
American Education Research Association's (AERA) conference
– presenting, sharing, being part of the swirling conversation that is a 15,000 attendees conference. As overwhelming as that can be – it proved a thought-provoking experience all around. As a special treat, thanks to comics scholars Gene Kannenberg and Brian Cremins, I got to visit
Quimby's
 – a fantastic shop overflowing with comics, zines, and alternative books, and signed copies of Unflattening they had on hand! A fun geek out moment – and I'm grateful for the opportunity. I capped off the extended trip with some talks about the work and hands-on comics activities with faculty and parents at Glenbard High School. Terrific responses and I'm excited to see who
comics and visual thinking is being embraced by educators and parents
alike.
Looking to teach with Unflattening? Professor Steven L. Berg of Schoolcraft College in Michigan will be teaching it in his classes this fall, and has already set up a wiki for the class. He welcomes conversations with others thinking to do the same and more info is on the wiki (Now defunct http://scholarlyvoices.org/unflattening/index.html). I'm thrilled to see it in use already and excited to see where students leap off and and make their own discoveries!
This week, I'm off for a quick trip to the 
Rochester Institute of Technology
, at the invitation of Dr. James Hall, director of the Center for Multidisciplinary Studies there. I'll be talking about my work and getting a chance to meet faculty and see work from across a wide variety of disciplines. Excited for generative conversations to come! – Nick