I am thrilled to share the news that 
Unflattening 
has won the 2016 
American Publishers Awards for Professional and Scholarly Excellence
(PROSE) in Humanities!  (The work also won the sub-category, Media & Cultural Studies.) I'm excited for what it means for me, but perhaps more for what it means for greater acceptance for comics and alternative scholarship. This is the first comic to win this award let alone even be considered. That represents a big wall coming down and I'm excited for what's to come! Grateful to be included in such august company of scholarly books and appreciate all the support. See the
full list of 2016 PROSE winners here
.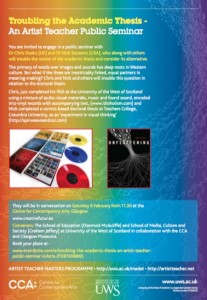 Last weekend, I gave a
virtual talk
at the
Centre for Contemporary Art, Glasgow
, hosted by the University of the West of Scotland, alongside Chris Dooks, who just defended his PhD there, using a mixture of audio-visual materials, music and found sound, encoded into vinyl records with accompanying text (
www.idioholism.com
). It was a great conversation around comics, alt scholarship, new models of acceptance and assessment – left me with a lot to think on going forward. Attendee professor Alke Groppel-Wegener wrote a post responding and reflecting on it here "
Troubling the Academic Thesis – Process and Product
." There is also a
Voice Thread
 with some slides from it
here
.
This coming Saturday, February 13, I'll be participating on a panel as part of 
Where Next
held at the Alberta College of Art+Design in Calgary. Details
here
.
And then, Wednesday February 17, I'll be in Detroit to give the
Toyota Lecture
at the College for Creative Studies. Excited to go back home and talk about the work in the place that has been so important to me. Details
here
. It's a short stay there, as I'm immediately off to Duke to speak at the
Franklin Humanities Story Lab
, February 18 and 19th. (Details
here
, registration
here
.)As both of these talks are hot on the heels of the PROSE award, I'm eager to continue conversations about what it means for comics and the changing face of scholarship. It's an exciting time… If you know anyone in the area interested in comics, visual thinking, and alternative scholarship – send them out!  – N