I'm pleased to have created a
comic for the journal Nature on climate change
in conjunction with the Paris climate conference beginning next week. Science journalist Richard Monastersky and I co-authored an 8-page comic that looks at the science of climate change, the history of global negotiations, and the impact of a warming planet. Doing a comic around environmental issues was high on my list to tackle, and I feel quite fortunate to have been able to contribute to such an important conversation and glad to bring comics to this forum. You can see the whole comic in full on
Nature's website here, where it is also downloadable as a PDF
. It may also be printed as a standalone piece to be distributed to delegates to the climate talks. You can read some further reflections on the process and challenges of making this from Rich and me on
Nature's blog here
. Thanks to Rich and Nature's creative director Kelly Krause for the opportunity and a great experience working on this!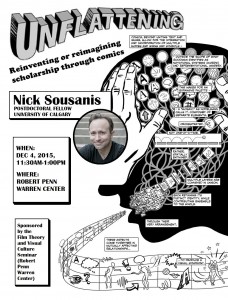 Next week, I'll be at Vanderbilt for a couple talks Friday, December 4. At 11:30, i'll be presenting 
"Unflattening: Reimagining Scholarship through Comics"
at the Robert Penn Warren Center for the Humanities. And at 2:10, i'll be doing a
workshop on visual thinking
in the classroom at the Center for Teaching at Vanderbilt.