I'm pleased to report, Unflattening found its way onto a number of Best of 2015 lists to close out the year! I want to share a bit of that news, before getting into upcoming conference and speaking travel, and then the continuation of sharing excerpts from my fall class "Comics as a Way of Thinking."
The roundup: Forbes (!) includes Unflattening on its list of 10 Best Graphic Novels of 2015, calling it "Beautifully drawn and brilliantly conceived, Unflattening is an instant classic." Print Mag named Unflattening to it list of 25 Best Design Books of 2015!, writing, "the end result is, frankly, genius" The Irish Examiner lists Unflattening on its Best Comics of 2015! Writing, "Harvard University Press' remarkable entry into comics publishing arose when Nick Sousanis submitted his dissertation in the form of a comic book. … Sousanis' investigation into the connection between word and image could not have been presented in any other way…."
Renowned UK comics critic, scholar, curator Paul Gravett named Unflattening to his list of Top Ten Comics of 2015! He writes: "Reading this PhD entirely in comics form will alter your perceptions, of comics, of art, of how to see and process your world and your ideas. Sousanis is relentlessly innovative in his solutions to picturing his concepts and in the process provides irrefutable proof of the efficacy of the medium to explain engagingly and memorably…" Unflattening also made Comics for Grownups Best of 2015 and Stergios Botzakis's Graphic Novel Resources review site's Favorites of 2015. Previously reported lists include The Independent's (UK) list of Best 7 Graphic Novels for 2015 – who call it, "the perfect illustration of the inextricability of the verbal and the visual." The Kenyon Review also put Unflattening on its 2015 list of Recommended Reads, describing it as: "a modern day mashup of philosophy and critical theory, there is poetry at work in this contemplative comic book that offers as fresh a take on the genre as Spiegelman's Maus
 did when it first hit the bookracks in 1991." Somewhere in there, the New York Observer included Unflattening on its list of Top 10 Books on Innovation! It also received an honorable mention from Publishers Weekly, and included on both TechTimes' 2015 list, and Forbidden Planet's list. Pleased to have the work so well recognized and among such company! And really, looking over all these various lists, you get a picture of how much is going on in comics and how diverse it is. Many things I intend to seek out – and I think the value in these lists is helping people find works that deserve attention – some that get a lot and some that needed a little extra push…
With 2015 behind us, it's time for 2016, and that puts me back on the road, right off the bat! First up, it's off to Austin for the annual MLA conference. I'm participating in session 222. Developments in Comics Pedagogy, Friday January 8, from 8:30-9:45 am in the Austin Convention Center (8A). Interested in following from home, we'll be tweeting at #MLA16 #s222. Session Description: Participants discuss how they have used comics and graphic novels to design unique courses in composition, language, literature, and new media, offering overlapping perspectives in program creation, multimodal integration, gender and cultural studies, and project-based learning. The session welcomes audience participation to discuss new approaches in teaching comics. Presiding: Keith McCleary, Univ. of California, San Diego; Derek McGrath, Stony Brook Univ., State Univ. of New York. Speakers: Maria Elsy Cardona, Saint Louis Univ.; Susan E. Kirtley, Portland State Univ.; Elizabeth Mathews Losh, Coll. of William and Mary; Elizabeth Nijdam, Univ. of Michigan, Ann Arbor; Joe Sutliff Sanders, Kansas State Univ.; Nick Sousanis, Univ. of Calgary. For abstracts and biographies, visit www.dereksmcgrath.wordpress.com. Derek has been blogging about the panel here.
I will, as I've done the last few years, be giving out FREE comics/excerpts from Unflattening to attendees (though Harvard will be on hand – so buy the book!). Given current trends, these can double as adult coloring books – curious to see attempts at putting the work to color!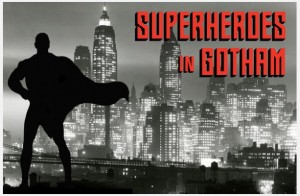 I'm going straight from Austin to NYC, where I'm participating in the NYC Department of Education Comics in the Classroom conference for social studies teachers at the New York Historical Society. It's happening in conjunction with the Society's exhibit Superheroes in Gotham. I'll be on a panel moderated by comics librarian extraordinaire Karen Green, and featuring Jorge Aguirre, George O'Connor, Trevor Getz, and Marvel's Katie Kubert and Daniel Ketchum. I'm doing workshops with teachers, and also giving a talk on Unflattening, as part of the day. Scott McCloud is delivering the closing keynote!
For this event and the MLA session, I'll be drawing a lot on the work my students did for my fall class "Comics as a Way of Thinking." I shared some excerpts from how we began the class and their final projects in my last post, and this time out I want to fill in a bit of the middle. A lot of the comics-makig exercises we take on involve a single constraint – a way to get them focusing on a particular aspect of comics making. (As with the previous sharing of the work, I do so with the permission of the students.)
An early exercise we do has them share a short story about how they got here once in 3 panels, and a second time in 2 pages. How they interpret the prompt and the composition, is up to them. It's pretty neat, and opens ideas about how to tell a story, what sort of markers do you need to hit, and how format changes the story itself. First up, Bon – who i should note, handled the 2-page version as actually a 2 page spread, so the dividing line isn't obvious in the scan.
Kody…
Sarah Rae:
Jenny, from a past class, who ingeniously made her 3 panel, a folded page with cutout reveals of the 2 page it was made on:
As one of our course texts, we read Matt Madden's wonderful "99 Ways to Tell a Story," in which he tells a mundane one page story in comics, and then proceeds to revisit it 98 times in different variations and styles. Reading this book teaches a ton about thinking in comics. We played with it for 3 versions, some examples:
Melanie:
Jenni:
In class, we also enjoyed Madden and Jessica Abel's comics collaborative exercise "Panel Lottery." A super fun group activity, easy for anyone to do, and teaches a lot about storytelling. I highly recommend it. See instructions here and a downloadable PDF here. And more comics making ideas on their site dw-wp.com. We did several other in class and take home exercises – including a piece focusing on using a single visual/verbal metaphor throughout, wordless comics, and more. But this should offer a good sense of what we did.
Related, back in November, for Digital Writing Month, I wrote up some reflections on comics as a communication form and introduction to some making exercises including Grids & Gestures. That essay is online here "Between Words and Pictures Emerges the Shape of Ideas" and ties in neatly with things we did in the class and the MLA and NYC/DOE sessions I'll be doing.
Lastly, a few years back, i contributed to the Digital Humanities Quarterly special issue on "Comics as Scholarship." That has now come to light. My contribution was some reflections on how i created the first half of chapter three of Unflattening. It offers some good insight on my process and thinking behind doing this work, and includes a ton of sketches with the idea that they can be read alongside the finished pages. Have a look here: "Behind the Scenes of a Dissertation in Comics Form,"
To a great year ahead! – Nick