Last week, I went on a whirlwind speaking trip back East, doing six talks in four days! It started at the Brooklyn Bookfest with a panel alongside cartoonist and comics educator Jessica Abel and moderator Alex Blumberg on Sunday the 20th, then back at Teachers College, Columbia, on Monday the 21st, followed by College Unbound in Providence on the 22nd, and then Harvard Graduate School of Education, Microsoft Research Cambridge, and finally a stop back at College Unbound all on the 23rd! Comics Scholar A. David Lewis was at HGSE and kindly Storified tweets from the talk.The talks not only blurred together on account of the short time between them, but also how questions raised from each started to weave and speak to one another. It was of particular interest to be asked at Teachers College (where I made this thing) about how this work speaks to future assessment and then be at College Unbound where they are using portfolio and nontraditional markers more relevant to the students' lives than we are accustomed. Really enjoyed all the different people I got to engage with and grateful for all the all support in having me at this institutions.
I recently wrote up the comics making exercise Grids and Gestures that I developed for my classes and use in public talks and it has now been published in SANE Journal (Sequential Art Narrative in Education) as part of an issue devoted to comics in the classroom. You can see an explanation of how to do Grids and Gestures here along with student examples of doing the piece, and you can also see a past recorded talk of me explaining it and having an audience at the International Visual Literacy Association do it here. I'll be sharing more on the exercise in action in conjunction with my current class, comics as a way of thinking soon.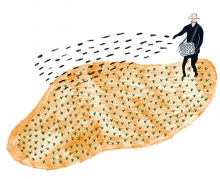 This coming week, i'm in the air again and off to Berlin for a 44 hour visit! I'm giving an invited talk at the conference Science meets Comics. The Anthropocene Kitchen: Designing the Future of Food. This gathering is devoted to talking about communicating science through comics and addressing issues around food supply in the face of climate change. Learn more about this interdisciplinary gathering here. While I'm in Berlin, I'm also going to talk comics and scholarship at the Berlin Comics Colloquium. Excited to meet folks there and see what's going on in comics in Berlin!
To wrap up this post, I recently did a massive sweeping interview with media studies scholar Henry Jenkins. We talked on everything from filmmaker Sergei Eisenstein and my choice to make comics the hard way, manipulation of reading direction, the notion of "flippability" in comics coined by comics scholar Kent Worcester, my dog, Lockerman (superheroes in non-superhero comics), and my influences on making non-representational comics sans visible narrator. Henry's questions got me thinking about articulating ideas in ways I hadn't prior. From his intro to the interview he writes:
About a year ago, I was asked by the Harvard University Press to be a peer-reviewer for a remarkable book — Nick Sousanis's Unflattening. I had heard rumors that a PhD candidate had written his dissertation entirely in the comics form and I was intrigued to see what the finished product looked like, perhaps skeptical that it could be good on both levels — good scholarship and more importantly, good comics. So, I was unprepared by what I was sent — this was not simply good comics, whatever that might mean, but transformative comics, comics that stretched the medium in all different directions, comics which made us think about comics were in new ways. On one level, it reminded me of my experience first reading Scott McCloud's Understanding Comics, but it also got me thinking about those comics artists whose expressive use of the medium taught us to rethink what comics are implicitly if not explicitly — Chris Ware, Will Eisner, David Mazzuchelli, David Mack, Richard McGuire, Art Spiegelman, etc.
It appears in Four parts, you can see them here: Part 1, Part 2, Part 3, Part 4. Thanks for the support! – Nick