New interview with me courtesy of the iTeach Podcast! Some background….
Back in late November, I was pleased to be contacted by Chris Malmberg of the University of Alaska-Fairbanks about a podcast he and his colleague Brooke Sheridan had made in which they devoted their inaugural session to a discussion of my work and the implications for comics/visual thinking in education.
After that, Brooke and I teamed up to write a post on HASTAC's blog delving further into reimagining knowledge creation and the forms that scholarship might take, as well as the political implications of diverging from the verbal's long-held dominance as the legitimate form of thought.
Chris and Brooke were then kind of enough to do an interview via Skype in early December and is now live on their site. They pretty much gave me free rein to put forth my thinking on comics and education at great length, touching on the ways that thinking through comics can play a significant role in learning and open possibilities for how we think regardless of the fields we work in. I took up some notions of embodied experience and the nature of seeing as seeing in relationship – all as a means of breaking down the walls we are so good at putting up. Also, I talk about the idea that comics make me smarter – in that i can have a conversation with myself through my drawings and the unconscious engagement of my visual system – extends my thinking beyond what I can pull of alone in my head or only with text. The interview has been extremely useful to me as I'm in the midst of my third chapter, which hits on all of the things i discuss in the interview. In listening to it, I get the opportunity to have another sort of conversation with myself! Thanks to Chris and Brooke for the opportunity, hope you all enjoy, check it out here. – Nick
Sketch-outline for the forthcoming chapter three…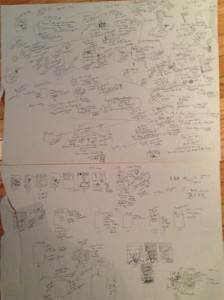 A sketch explaining the shape of your day in comics exercise to global educator Matt Finch. Sometime soon i hope to get this in a more shareable form…