Of late, this blog has started to transform into a blog proper – instead of solely serving as a repository for new comics. As I'm in the midst of a very long form comic in the form of my dissertation, this trend will continue for a while (and also, i have a proper site in the works! More on that later.).
MoCCAfest 2012 represented my first time at a comic convention on the creator side of the table. A learning experience. Had a great time, particularly meeting other creators. Thought I'd share a quick rundown of a little bit of what I saw – limited by the fact, I didn't leave my table for long…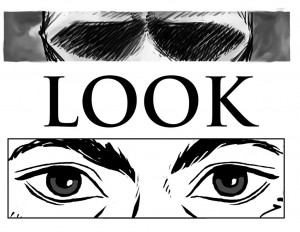 My first visitor on the first day was legendary comics artist P.Craig Russell! A real treat – I recall his ink work (over Jim Starlin) way back to Detective Comics #481 (i had to look up the issue number, but I did remember the story) – and have been inspired by his approach to comics ever since. (Sandman – Ramadan issue, adaptation of Gaiman's "The Dream Hunters" – among other great stuff.)
For reasons unbeknownst to any of us, I found myself nestled between the Scandinavian comics artists contingent! Good folks and a lot of exciting work. Check out the Swedish Comics Association and all that they're doing to support artists and promote comics here. I shared a table with Wisconsin native turned-Norwegian, Max Estes. Delightful storyteller – in nearly silent tales. Also, I was seated next to the folks behind Sikhtoons – and enjoyed watching as their work invited conversations with all sorts of visitors to the festival. Great use of aesthetics and humor for opening dialogues.
I was kitty corner to Jessica Abel and Matt Madden (creators of Drawing Words and Writing Pictures and series editors of the Best American Comics) where they were showing off their new book Mastering Comics – available everywhere May 8! Expect Mastering Comics to join their original Drawing Words/Writing Pictures text as a must have for teachers of comics, comics makers, and more. This dynamic duo continues to give greatly to the comics medium.
Caught up with fellow doc student and comics artist Jarod Roselló and was introduced to his thinking about art in comics – a blend of fun storytelling and serious pedagogical discussions.
Jarod in turn introduced me to the Australian cartoonists (now on Tour!) This grand gathering included Pat Grant – whose book Blue from TopShelf is set to make serious waves. In my view it is seriously smart cartooning – a master class in thinking of how to convey story in comics. Definitely highly recommended.
Susie Oh stopped by my table – and shared her lovely and thoughtful illustrated stories. She was kind enough to share a few words on my work on her blog here. (On that note, thanks again to the Beat's Torsten Adair for including my work in his overview of Day 1 at the festival.)
Ran across yet another doctoral student also making comics – Marjee Chmiel and picked up her book (beautifully illustrated in black and white by Sandra Lanz) "Luci's Let Down." Smart and wildly imaginative in text and image.
Though not exhibiting this time, received a visit from Yen Yen Woo & Colin Goh – creators of the comic/app Dim Sum Warriors (one of the most interesting blends of tech and comics i've seen – check it out).
Thanks to everyone I met (this is only a little sampling – good energy all around) – and a big thank you to the organizers at MoCCA and all the volunteers – who made this happen!
Next up, I'll be heading down to Huntingdon, PA for the Sequential SmArt comics and education conference hosted by Juniata College. A great crew of comics makers/educators will be assembled. In the meantime – drawing away at this dissertation. I have pages to share – and will do so soon… – Nick