I'm pleased to share the news that Unflattening has been nominated for an Eisner Award for Best Academic/Scholarly Work! I'm over the moon to be part of the history of comics' biggest awards, and thankful to all the judges for considering my work. Now it gets handed over to voters – those with some connection to the comics industry who get to weigh in on the winner – all to be announced at Comicon in San Diego in mid-July. So, if you're an eligible Eisner voter – I encourage you to do your civic duty and cast a ballot for any of these deserving people. See info about all the nominees here!
I'm also thrilled that Unflattening has won the Lynd Ward Prize for Graphic Novel of the Year!! Named for the author of early twentieth century wordless woodcut novels which retroactively have been considered to be the first graphic novels (Ward also attended Teachers College!). Past winners include Chris Ware's Building Stories, the Tamakis' This One Summer, and Jim Woodring's Fran (all 3 books I taught this year)! I'm over the moon with this and the Eisner nomination to have been selected among all the books published this year. A big thank you to Penn State and the selection committee for creating this award and considering my work. See more here, or at the Comics Beat, or Comic Book Resources. (On the award theme, I was pleased to be awarded a Teaching Excellence award by UofC's Student Union for my fall Comics as a Way of Thinking class – of which, I posted a lot about here.)
Catch a video interview I did with legendary educator Howard Rheingold on Digital Media + Learning Central! The Spanish paper El Pais featured Unflattening in an article on comics and visual thinking. (Google translate version here.) The keynote I did at the data storytelling Tapestry was recorded and viewable on YouTube here. And you can also catch a review of that Tapestry talk on the Data Stories Podcast here.
I've got a few upcoming talks in Calgary: Saturday April 30 a comics-making workshop for Alumni Weekend at UofC (see details in the Avenue here); Sunday May 1 Calgary Comics Expo, and Monday May 2, a workshop and panel along with my boss Bart Beaty and the aforementioned Jillian Tamaki as part of the Werklund School of Education's comics and literacy symposium.
Two weeks back, I invited people via social media to take part in this very simple comics-making exercise I call "Grids and Gestures." (A journal article version of the exercise is here.) Responses were amazing, as people from all over took part for a day, two days, some each day, and there are a couple still going strong or joining in since the activity officially ended. In watching it unfold and through my own participation, I saw it as a chance for people to pause each day, to reflect on their thinking, and in doing it visually – reconsider how their day took shape and what was important. I've long thought about the exercise's potential as a form of diary and seeing it on this larger scale has further convinced me of the value in that. I actually had never done it myself – so I was really pleased to carve out the time and have that pause of creation and reflection for the 8 days that i did it. The closest I came to doing it prior, was thinking about it in designing the grid below, the basis for pages 118-121 of Unflattening. I designed the grid with an idea for how a person's day unfolded like the exercise – but with no exact content in mind. I created the story within only after the grid was made…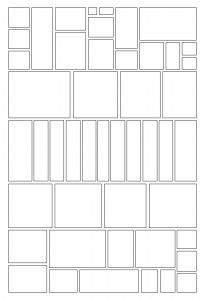 If you want to see how #gridsgestures all unfolded, comics scholar A. David Lewis kindly gathered all the posts over the five days from twitter on Storify here. There were hand drawn responses, painted, animations, a zoetrope, ani-gifs, and all sorts of lovely explorations. (All the examples here are from people who contributed on twitter.)
Anastasia Salter, (who is still going strong with her own drawings!) wrote about it while it was ongoing on the Chronicle's ProfHacker here, and again after it had wrapped here. Amy Burvall joined in all week, and posted some thoughtful reflections on it here and again on its educational potential here. Jenny Mackness joined in all week as well, and offered her reflections on it and Unflattening here (Some related thoughts on Unflattening from Matthias Welcher) and some lovely thoughts about the learning outcomes from it here. Yin Wah Kreher too joined in all week, and shared her thoughts here. Alan Levine took part in all of it as well, and shared his thoughts and contributions here. Kevin Hodgson shared his week-long contributions here, as did Ron Leunissen here, and Mariana Funes here. Finally (and no doubt i missed some of the reflections along the way), Aras Bozkurt not only joined in, but mapped out all the twitter connections on a kind of grid and gesture of his own…. Andy Cotgreave of Tableau Software (who hosted my Tapestry talk) got the whole company doing grids and gestures at their recent company meeting and recounted the experience here!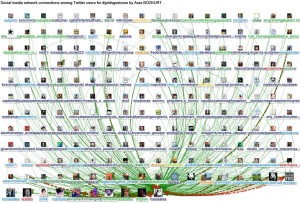 Thanks to all who participated, and I look forward to trying something like this again soon! – Nick
A short piece on Unflattening in Dutch.